6 Bag Coal Bunker
6 Bag Coal Bunker
Short description
The Coal Bunker – 5cwt (250kg) is ideal for coal, turf, wood or briquette storage
Wish to know when this product is back in stock? Leave your mail and we will notify you!
Different payment methods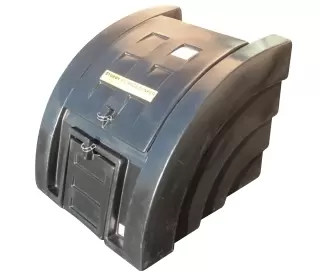 he plastic Coal Bunkers unique design has been developed with the householder in mind. Its striaght vertical back sits neatly against any wall and eliminates debris gathering. The large upper lid opening makes it easy to fill the coal bunker. The lower opening door opens downwards thus allowing any dust to be returned to the fuel storage container when closing. An inner hidden cowl prevents large amounts of fuel flowing out onto the ground. The Coal Bunker – 5cwt (250kg) has a lockable lid and door and is safe in child environments.
This size coal bunker is ideal for a person who occasionally uses an open fire. The rotationally moulded UV stabilised unit guarantees a strong and durable weather resistant unit. The bunker is long lasting and maintenance free.
Our Coal Bunkers – 5cwt (250kg) come in black as standard. Other colours are available on request. Our coal bunkers are available in Ireland and the UK. The Coal Bunker is capable of holding 6 X 40kg Bags of Coal.
Length: 960mm
Width: 840mm
Height: 800mm
Capacity: 250kg (6 large bags of coal)
The 5cwt (250kg) Coal Bunker is manufactured from recycled UV Stabilised Medium Density Polyethylene.
The U.V. Stabiliser has a rating of 8 (i.e. UV Stabilised, Good Colour Retention, and Long Life Expectancy).
The weight of this product is approximately 21.75kg.
The bunker comes complete with locking clasp as standard.
Article number

653

EAN code

P1011177

EAN trade

653

Brand
Write a review about "6 Bag Coal Bunker"
We want to know your opinion! Write a review about the product "6 Bag Coal Bunker"