Corsica Wall Basket 25cm
Short description
Made with recycled plastic, made with own wind energy, 100% recyclable. Ideal to combine this basket with plants that fit a pot size up to 16cm. You make things even more beautifully green around the house with this wall planter from elho. That boring fence or that bare wall are easily covered up with your prettiest spring plants and a flowerpot that is easy to install. The drainage holes makes sure that your plants don't drown and that the water falls straight down, preventing green stains on your wall. Mix and match several wall baskets for a lively effect!

Wish to know when this product is back in stock? Leave your mail and we will notify you!

Sorry, you can't order this product at the moment
Quality assured
Easy maintenance
Corsica Wall Basket 25cm
Short description
Made with recycled plastic, made with own wind energy, 100% recyclable. Ideal to combine this basket with plants that fit a pot size up to 16cm. You make things even more beautifully green around the house with this wall planter from elho. That boring fence or that bare wall are easily covered up with your prettiest spring plants and a flowerpot that is easy to install. The drainage holes makes sure that your plants don't drown and that the water falls straight down, preventing green stains on your wall. Mix and match several wall baskets for a lively effect!

Wish to know when this product is back in stock? Leave your mail and we will notify you!

Sorry, you can't order this product at the moment
Quality assured
Easy maintenance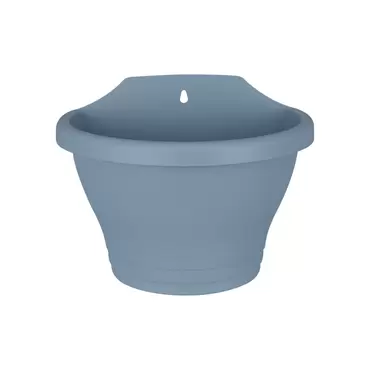 Original designs with a dose of creativity to make everything around your home greener and more atmospheric: that is elho's corsica collection! The possibilities are endless for more plants or flowers on your terrace, on your wall, around your door or even on your downspout. The elegant and luxurious appearance of these designs will spruce up any balcony or garden. Enjoy your plants even longer with optimal ease of use and smart solutions for water dosage. Always available in the most beautiful colours guaranteed to make the neighbours envious!
Article number

8711904277994

EAN code

P000139

EAN trade

8711904277994

Brand

Product dimensions

W 25 X H 19 X D 16 cm

Colour

Vintage Blue

Product type

Corsica
Write a review about "Corsica Wall Basket 25cm"
We want to know your opinion! Write a review about the product "Corsica Wall Basket 25cm"