Alderwood Pure Charcoal
Alderwood Pure Charcoal
Short description
30L bag - Bigger fraction (80% is 5 - 10cm lumps)

* Cooking time is around 60 min

* Great for serious BBQ

* Ignition time is 5 - 15 min
Wish to know when this product is back in stock? Leave your mail and we will notify you!
Durable
Quality assured
Functional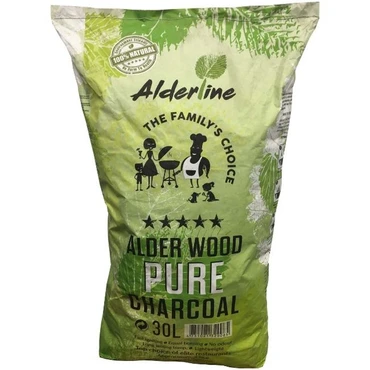 AlderWood Pure Charcoal is an ecologically produced lump-wood charcoal and it is a 100% natural product. It comes from Europe's forests and the main source is white alder. White alder grows very fast and it is a forest bush, therefore, when producing our charcoal they do not cut forests, but clean them.

Their charcoal does not contain tar and toxins, so it is harmless to health. Charcoal has low humidity content, therefore, it ignites extremely well and is easy to use. When igniting charcoal you do not need any ignition liquids, only piece of paper.

In the 50L bag pieces of charcoal are large in size, (80% of pieces are 5 - 10cm) so they do not fall through the bars of the grill. Thanks to the specialised production system all charcoal is heated evenly trough. These two charcoal features provide even burning temperature throughout the grill without damaging it and does not burn food but evenly heat it. Due to special production techniques, this charcoal is completely purified, heated and therefore do not create smoke. We have removed dust as much as possible.
EAN code

P015942

EAN trade

4751021320085

Brand
Write a review about "Alderwood Pure Charcoal"
We want to know your opinion! Write a review about the product "Alderwood Pure Charcoal"